'62 Frame Conversion - October 2000
---
Click on a photo to view a larger image.
A new copy of your browser will be launched to view the image.
Click on the exit button to return to this page.
---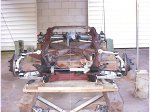 Front suspension located (approximately)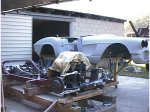 Engine and trans positioned in frame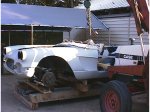 Initial body fit. Needs to go down about 4 inches. Will have to trim some fiberglass.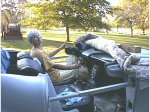 Shifter seems to be "just right".
Forming sheet metal frame rails
Side rails are placed first, then bottom
More welding and grinding
Reinforcing plates added on each side
Front frame rails almost complete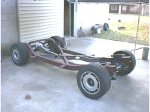 Almost a 'rolling chassis'