'62 Frame Conversion - May 2002
---
Click on a photo to view a larger image.
A new copy of your browser will be launched to view the image.
Click on the exit button to return to this page.
---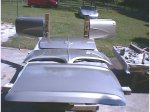 Doors, trunk, soft top lid, hood, and other small parts are painted. Hard to tell from this picture but the color is fawn beige.
Body is ready for paint after five hours of taping and masking.
Body is painted. It may not be smooth, but at least it's all the same color - finally.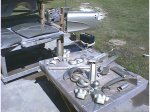 Seems like all the little pieces take longer to paint than the body.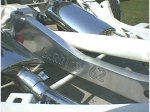 Carol signed her name with the milling machine.
Body is back on the frame, starting to put all the pieces back together.
The old dash pad is covered with leather.
Dash pad is finished, instrument pod is installed, starting to cut new carpet.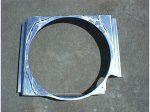 Aluminum radiator shroud before smoothing and polishing
New aluminum radiator and shroud for electric fan. The radiator is a Griffin HP series, model 6561Af.