'62 Frame Conversion - June 2001
---
Click on a photo to view a larger image.
A new copy of your browser will be launched to view the image.
Click on the exit button to return to this page.
---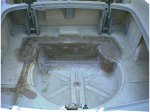 Interior fiberglass work in trunk area.
Power steering reservoir is attached to engine compartment.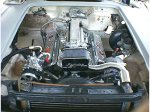 Almost all hoses for heater, air conditioner, radiator, power steering, and fuel line in place.
New stainless splash shields behind front wheels.