'62 Frame Conversion - July 2001
---
Click on a photo to view a larger image.
A new copy of your browser will be launched to view the image.
Click on the exit button to return to this page.
---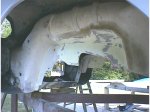 Fabricating new inner front fender wells to cover front crossmember.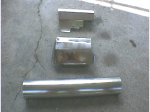 Stainless heat shields for clutch slave cylinder, starter, and fuel pump and filter.
There are exactly 87 holes to fill on this frame.