'62 Frame Conversion - January 2002
---
Click on a photo to view a larger image.
A new copy of your browser will be launched to view the image.
Click on the exit button to return to this page.
---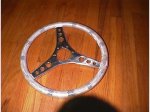 14" steering wheel is complete except for leather covering. The stainless steel rim was covered with plywood, rounded down, and covered with reinforced vunyl tubing.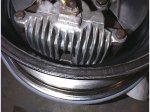 We finally found some solid steel wheels that would fit over the '84 brake calipers. These are 16" x 7" "Chrome Smoothies" from Wheel Vintiques
Most of this month has been spent smoothing and polishing the aluminum suspension pieces. The frame has been at the powder coaters since just before Christmas. As soon as it gets back, we can start assemby and maybe get some space back in our shop.