'62 Frame Conversion - February 2002
---
Click on a photo to view a larger image.
A new copy of your browser will be launched to view the image.
Click on the exit button to return to this page.
---
Finally got the frame, rear crossmember, front suspension subframe, driveshaft, swaybars, front and rear bumper brackets and about 80 other pieces back from the powder coater. The color is "Almond".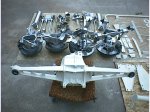 Differential and "Bat Wing" are also painted.
Installing front and rear suspension.
More suspension pictures.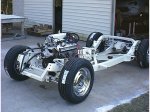 Engine and transmission in place.
Driveshaft, exhaust, fuel system all in place.