'62 Frame Conversion - March 2002
---
Click on a photo to view a larger image.
A new copy of your browser will be launched to view the image.
Click on the exit button to return to this page.
---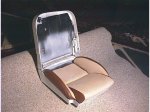 The top of the '84 seat back was cut off and an aluminum frame was fitted to widen the seat at the top and make it fit better in the '62 seat cavity.
The seat backs were formed and padded with foam.
The seats were covered with a sueded leather (light) and vinyl (brown).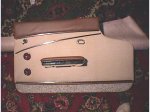 Driver side door panel recovered in leather/vinyl.