'62 Frame Conversion - January 2001
---
Click on a photo to view a larger image.
A new copy of your browser will be launched to view the image.
Click on the exit button to return to this page.
---
Yes, a 9" vacuum booster can fit under the hood
Spherical rod ends for the new rear tie rod finally arrived. Tie rod is stainless steel.
Had to add an extra universal joint and support bearing to steering shaft to clear headers and brake booster.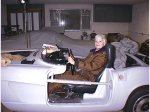 Carol trying out steering shaft and linkage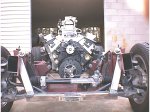 Front cross brace and radiator mount in place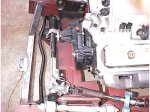 Front suspension and steering.