'62 Frame Conversion - December 2000
---
Click on a photo to view a larger image.
A new copy of your browser will be launched to view the image.
Click on the exit button to return to this page.
---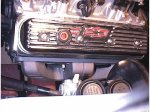 Well most of this month has been spent waiting for these exhaust manifolds to arrive. These are cast steel, Sanderson model QP1000, should be a little quieter and cooler than tube types.