'62 Frame Conversion - October 2001
---
Click on a photo to view a larger image.
A new copy of your browser will be launched to view the image.
Click on the exit button to return to this page.
---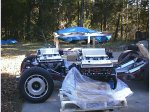 No, we are not installing dual engines. We finally got the car together enough to start the engine only to discover that the original engine had a bad miss. After checking the fuel pressure, plugs, plug wires, timing, ordering new injectors and a distributor cap, we discovered that there was absolutely NO compression on cylinder #2. The second engine is the replacement engine (replaced under warranty). We just lost about two weeks time taking the body off, replacing the engine and replacing the body. Anyway, the car seems to be running fine now.
Making a new smaller (14" diameter) steering wheel from stainless steel.