'59 Project January 2010
---
Click on a photo to view a larger image.

A new copy of your browser will be launched to view the image.

Click on the exit button to return to this page.
---
This is an alternative to the stock hood latches used on the '58-'60 Corvettes, although it could probably be used on other C1 Corvettes also. The latches used can be purchased from Corvette Corrections (www.corvettecorrections.com) or Watson's Street Works (http://www.watsons-streetworks.com/latch_catches.html).
To view a larger image, click on the thumbnail pictures shown below.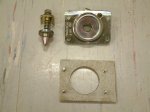 Each hood latch consists of a catch and a pin (metal parts shown above). I made a mounting plate from fiberglass with four 10 x 24 machine bolts imbedded in the glass. The plate is approximately 0.25" thick.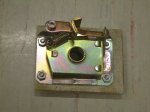 Latch mounted on the mounting plate.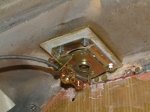 Passenger side latch glued to underside of fiberglass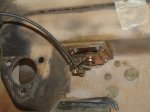 Driver side latch glued to underside of fiberglass.

The stock hood latch release handle and cables are used to actuate the new latches.
Views of the hood latches seen from the top side.

The latches are centered on the old center bolt hole which held the stop bolt on the original latch.

Still a lot of fiberglass finishing to be done.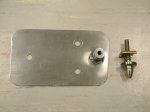 A new mounting plate was fabricated to hold the new latch pin.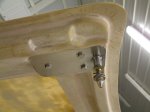 New mounting plate and pin shown bolted in place.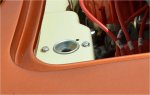 After completing the car I made two modifications to the catches.

After using the latches a few times the force from closing the hood caused the adhesive used to attach the fiberglass mounting plate to break loose, so I added two bolts.
You will also notice a small hole in the fiberglass close to the outside edge of the catch. The bolt that holds the adjustment cables onto the latch can only be tightened from the top so this hole was added so the the clamp could be adjusted and tightened without having to remove the latch.